Concours derives from then French term Concours d'Elegance, which translates from French as "a competition of elegance". Concours supposedly date back to the 17th century French aristocracy who showcased their fanciful carriages in full-blown parades; but over time, as transportation evolved, so did concours. The simple gathering of carriages would change into a competition between automobile owners judged on appearance of their cars.

To sum up things simply, the tradition of concours is still carried out today as a staple at automobile shows and after racing competitions as a competition of the quality and appearance of a car based on restoration to a state exceeding when the car just came out of the factory and maintenance.

Read more about Concours on PCA Website
The 41st Annual Connecticut Valley Region
Concours d'Elegance
2014 Concours Results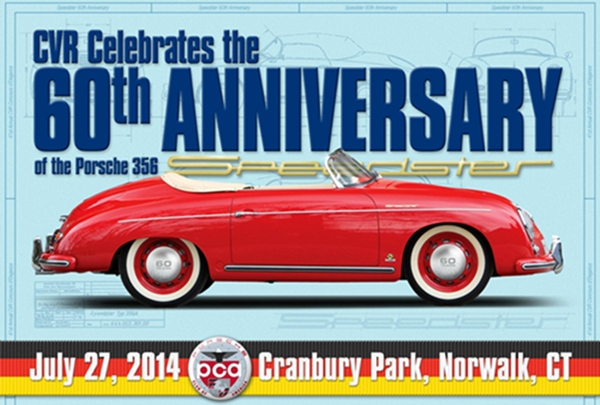 Concours Results
2014 Concours Results
2013 Concours Results
2012 Concours Results
2011 Concours Results
The Mary Ann and Jim Newton Concours Award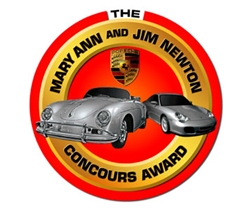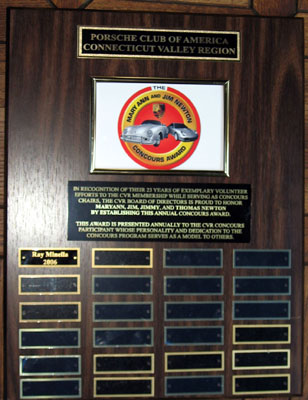 Each year the CVR Concours Co-Chairs select a CVR member to receive the prestigious Mary Ann and Jim Newton Concours Award. The Award was created in 2006 to honor Mary Ann and Jim Newton for their 23 years of service to CVR as Concours Chairs.

The Award Inscription reads:

In recognition of their 23 years of exemplary volunteer efforts to the CVR membership while service as Concours Chairs, the CVR Board of Directors is proud to honor Mary Ann, Jim, Jimmy and Thomas Newton by establishing this annual Concours award.

This award is presented annually to the CVR Concours participant whose personality and dedication to the Concours Program serves as a model to others.

The Mary Ann and Jim Newton Concours Award Recepients:
2006 - Ray Minella
2007 - Mieko and Mike Odierna
2008 - Diane and Jim Martin
2009 - Ernst Benzien
2010 - Jordan Bochanis
2011 - Lew Trusheim
2012 - Steven Harris
2013 - Prescott Kelly
Concours Chair: Jerry Charlup concours@cvrpca.org, (203) 322-8262
Concours Co-Chairs: Michael Keller, Trish Carroll and Dick Strahota




There are no coming events at this time.